Exploring the Camas Prairie Railroad has been something I really wanted to do for the last few years.  In this part of my series exploring the now abandoned 2nd subdivision of the Camas Prairie Railroad.  This is the most exciting section, in my opinion, and it inspired this desire so I traversed it first.  This 23-mile section of the railroad clings to the side of Lapwai Canyon and climbs from 1589 ft elevation at Culdesac to 3665 ft elevation at Craigmont.  The builders conquered this rugged terrain using 17 bridges and 7 tunnels!  This section was completed on March 1, 1908.
Safety Warning:
As I stated in part 1 and part 2 of this series, the railroad that I am exploring has been abandoned for many years.  While this creates its own set of dangers, it is much safer than exploring tracks that are still used.  I am by no means encouraging anyone to walk on or around live tracks.
History:
Before getting into the story of this exploring trip I thought I would try to paint a historical picture for you so that you can better understand the way things were in this area around the time that this railroad was constructed.
Timeline:
1805 – Lewis and Clark came through the area on their expedition to the Pacific ocean.
1830 – Peter Cooper built the first American steam locomotive to pull a passenger car on a railway.
1848 – The creation of the Oregon Territory spurs the massive migration of settlers into the Northwest along the Oregon Trail.
1853 – Washington Territory was created.
1855 – A treaty between the U.S. and the Nez Perce tribe sets up much of the area as a reservation.
1860 – Gold is discovered on reservation land where Pierce is today.
1863 – Idaho Territory was created with the new settlement of Lewiston as it's capital at the confluence of the Snake and Clearwater rivers.
1863 – A new treaty, not signed by all the Nez Perce, drastically reduced the size of the reservation.
1870's – After completion of the Transcontinental Railroad in 1869, a vast network of short line railroads were quickly built in the area by 2 large competitors, the Northern Pacific and Union Pacific railroads.
1877 – The Nez Perce war breaks out when the U.S. government tries to force the "non-treaty" Nez Perces onto the reservation.
1881-1884 – The Frederick Billings paddle steamboat was used to ferry trains up to 14 cars long across the Snake River at Ainsworth until a bridge was built. (This must have been an amazing spectacle to watch!)
1890 – Idaho becomes a State on July 3rd.
1895 – Lewiston built a railroad depot with hopes of attracting railroad service to its community.  Also, a new agreement opened up much more of the Camas Prairie for white settlement on reservation land.  This enticed many more people to the area.
1898 – The Northern Pacific finally connects Lewiston to Spokane. (I wonder what they used the depot for in the three years in between being built and being needed.)
1899 – The first part of the 2nd subdivision of the Camas Prairie Railroad is completed from Spalding to Culdesac.  It climbs from 734 ft elevation to 1589 ft elevation in 11.9 miles.
1908 – The 2nd subdivision is completed all the way to Grangeville on December 22.  The railroad crosses over 45 bridges on this subdivision, thus its nickname "The Railroad on Stilts."
The route for my exploration of the 2nd subdivision of the Camas Prairie Railroad: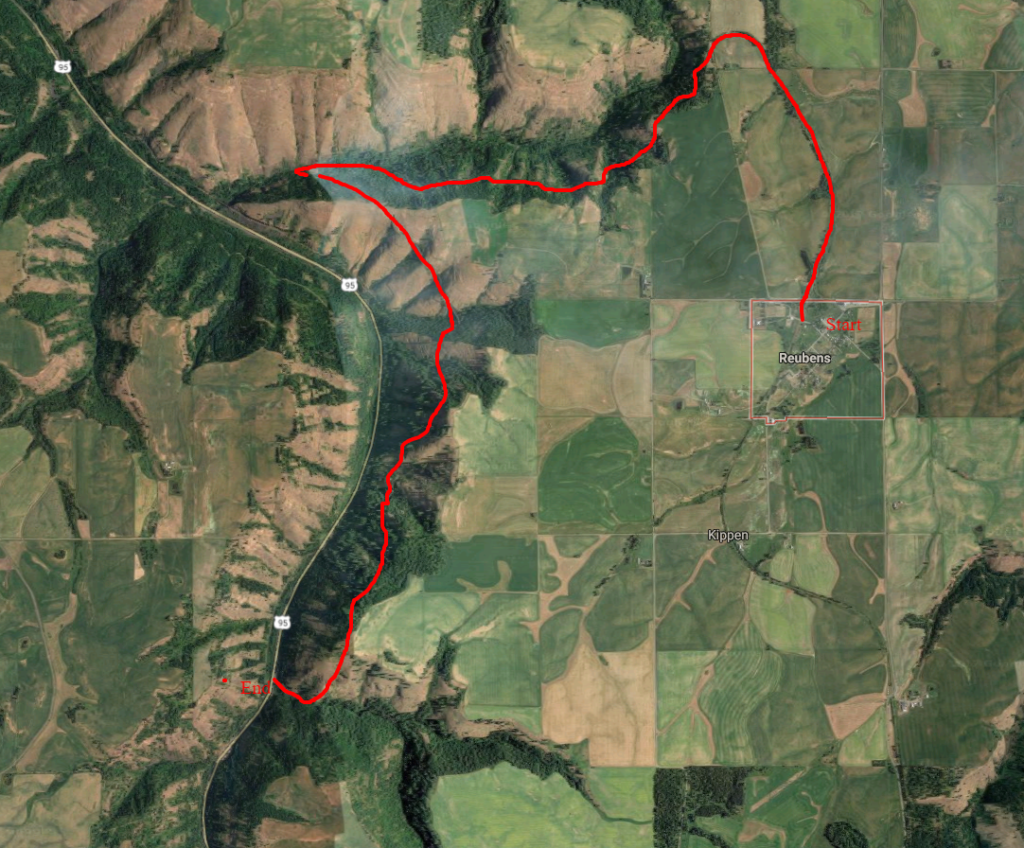 The Big Walk:
This was the first exploration I planned after deciding to do this project.  I drive through Lapwai Canyon on highway 95 often and I have admired the wooden railroad trestles along the top of the canyon for decades.  The majesty and engineering marvel of these bridges just capture my attention every time I pass.  This is what sparked my idea to travel and document the abandoned 2nd subdivision of the Camas Prairie Railroad.  Once I decided to finally do it, I knew this would be the first section we had to explore.  I just couldn't wait.
So I messaged my son-in-law Bill who is also a photographer and asked him if he would like to walk this section with me.  He agreed and to my surprise, my daughter Allie wanted to also.  I plotted the route out on Google Earth and as close as I could figure, it would be a 6-mile walk and we would be passing over several extremely high bridges and through 6 or seven tunnels.  There are two more well-known features on this section of rails.  They were at the end of our journey right before reaching Highway 95.  These are Half-Moon Trestle and Horseshoe Tunnel.  Half-Moon is one of the most beautiful trestles that I have ever seen and Horseshoe Tunnel is shaped just like the name implies.  I cannot wrap my mind around how they figured out the angles to dig as they curved around inside the mountain.  I think if I were in charge of that it would have come out on the wrong side of the mountain.  When you reach the middle of the tunnel, the curve is such that you cannot see light from either end.  I have read that when the builders brought the long pieces of the 1520 foot long Lawyers Canyon Viaduct through the tunnel that they were barely able to fit them around the corner.
We started out early in the morning and dropped Bill's car off down at the highway and I drove us to Reubens where we left my pickup and started walking.  The first stretch of tracks was through some pastoral farmland and we saw lots of wildflowers.  The weather was pleasant but unsettled.
It took us a while to get through this section because Bill likes Macro photography.  It was pleasant to not be the one slowing our progress for once.  Haha.
After coming around a long bend through some cuts, the scenery opened up to a large side canyon from Lapwai Canyon.  This was around where the town and schoolhouse of Chesley once were.  I took this picture of the "photographers" because I thought it was funny that they pulled out the cell phones instead of the camera.
This gave us our first view of some of the trestles we would cross.  You can see the railroad along the left rim of the canyon.
It wasn't long until we reached our first tunnel!
We were happy to get to the next one because the weather stopped being nice and it started raining on us.
Then we came to our first trestle to cross.  The tin covering the gaps in the ties made it a little less scary, but being up really high on slippery wet metal was a bit disturbing.
Here we came to another bridge and tunnel.
These water droplets were one benefit of the rain.  It's cool how they form and just sit there on the plants.
Then things started to get a little rougher.  You can see a small cave-in at the entrance of this tunnel.
Well, there goes that tin that gave us a false sense of security by obstructing the view down through the ties.  While crossing this bridge, I started wondering if I was fat enough to stick in between the ties if I happened to slip.  I think I am, so my legs would just be dangling.
I kept thinking about the last scene in this trailer while crossing the bridges.
This bird kept circling around us.  I think it was watching and mocking us.
Oh yeah, hey guys did I mention that one of the trestles was destroyed by a forest fire and we would have to scale down into the canyon and back up the other side?  Also, the rain became a torrential downpour at this point.  We got a little wet, actually soaked,  trudging through all the brush.  This type of thing makes an exploration trip way more memorable.
Here's Half-Moon!
I found a great book that shares a lot of history and cool old pictures of the Camas Prairie Railroad by Hal Riegger published in 1986.  You can get a copy of it from my link and I highly recommend it if you are interested in the history of this railroad.  The Camas Prairie, Idaho's railroad on stilts.  In the book, the author interviews several people who worked on this railroad.  One retired engineer, Irvin Sullivan, shared the following "They'd been working up there (on bridge 19 above Culdesac), at noon and in the evening, instead of walking to the end of the bridge and walking down that steep incline and rock bank, they just came down on one of those ropes.  Well, one of those workmen didn't realize how slick that rope was – it had been raining a little bit.  So he got ahold of that rope and started sliding down and ZIP!  He came down there like a bat out of hell.  When he landed he broke both his ankles."
Hal Riegger also has a great interview with retired engineer Bill Clem about his experiences working with the filming crew when they made the Charles Bronson movie Breakheart Pass in 1975 on the Camas Prairie Railroad.  If you have Amazon Prime you can watch it for free.  There are some great shots of the railroad with an old steam train on it and even one scene that they built a little stub track off one of the trestles and a "run-away" part of the train flies off and into the canyon.  Bill Clem got to be a star in that scene he was the brakeman in the caboose that they found with a knife in his back when they checked to see why he didn't set the brakes.  That must have been a really cool experience.
Here's a view of highway 95 from the railroad.
Finally after several hours.  We made it to the last tunnel,  Horseshoe Tunnel.  It's pretty dark and spooky when you get in there and around the corner and can't see either end.  Allie was not really excited about going through there, but the 6 miles back was out of the question.  Also, Bill was starting to look at us like we were steaks.  It had taken us longer than expected to make the trek and we were cold, wet and hungry.  We made it through without problems and back down to the highway and the warmth of a car heater.
Overall, we had a fun time and we were in good humor as we drove back to my pickup in Reubens.  I think it may be hard to get Allie to go on another of my adventures though.  Who knows,  I still have one more small section from here toward Culdesac to complete.  I think I may do it this winter and get some good snow shots.  I also learned of a couple of feeder lines that connected with the second subdivision that may be interesting to explore.  One went from Craigmont to Nezperce and the other connected the old mill and logging areas around Winchester to the main line.
Thanks for reading through all of this if you made it this far.  this was a pretty long blog for me, but this section was quite a memorable subject.  You can see more pictures of this section in The Full Gallery and as always you can find out how to purchase prints or downloads by clicking any of the pictures!
I would love to hear any stories you have about this railroad!  Please comment and share with your friends if you enjoyed this post.