The now abandoned Camas Prairie Railroad is an amazing and legendary railroad that climbs from an elevation of 745 feet in Lewiston, Idaho to over 3700 feet at its High point.  The abundance of tall trestles along this line earned it the nickname
"The Railroad On Stilts".
History:
The Camas Prairie Railroad's second subdivision was completed in 1908.  There was a railroad war going on between the Union Pacific and Northern Pacific lines to dominate this area.  They both had ambitions to build a line connecting Lewiston Idaho to the Camas Prairie to carry grain,  lumber products, and mail as well as passengers. After finally concluding that it would simply be too expensive to build a line over these extremely rugged mountains and canyons, They decided to come together and form a third company that would be a subsidiary to both.  Thus the Camas Prairie Railroad was born.  There is a cute story about one little girl who was mailed to Lewiston by her parents because she was under the maximum shipping weight and the postage was cheaper than passenger fare.  You can get a copy of the book here: Mailing May.
The Bicentennial Museum in Grangeville Idaho was kind enough to let me take some pictures of these historic shots to share on the blog.  They have some great displays set up if you are ever in town, check it out.  This first one is a shot of the construction beginning on the Lawyers' Canyon bridge.
This next one was taken on June 13th 1908 (exactly 109 years ago as I write this June 13th 2017).  It is the same bridge being built.
Here is the first passenger train into Grangeville from Lewiston on December 3rd 1908.
Passenger service slowed down as more people bought cars and the road system was improved starting in the 1930's.  By 1955, The Camas Prairie Railroad had discontinued passenger service and only transported freight.  The railroad was abandoned in 2000 and some of the track has been removed.  A wildfire destroyed one trestle and a couple of the others are not crossable.  I wanted to document what is still here before it's all gone, so I decided to travel the entire length of the railroad to get pictures of all the trestles and the beautiful scenery around the line.  Some of it I walked and some of it I rode my ATV.  It was a wonderful adventure and sometimes scary crossing those trestles!
Part 1: Grangeville Idaho to Ferdinand Idaho on The Camas Prairie Railroad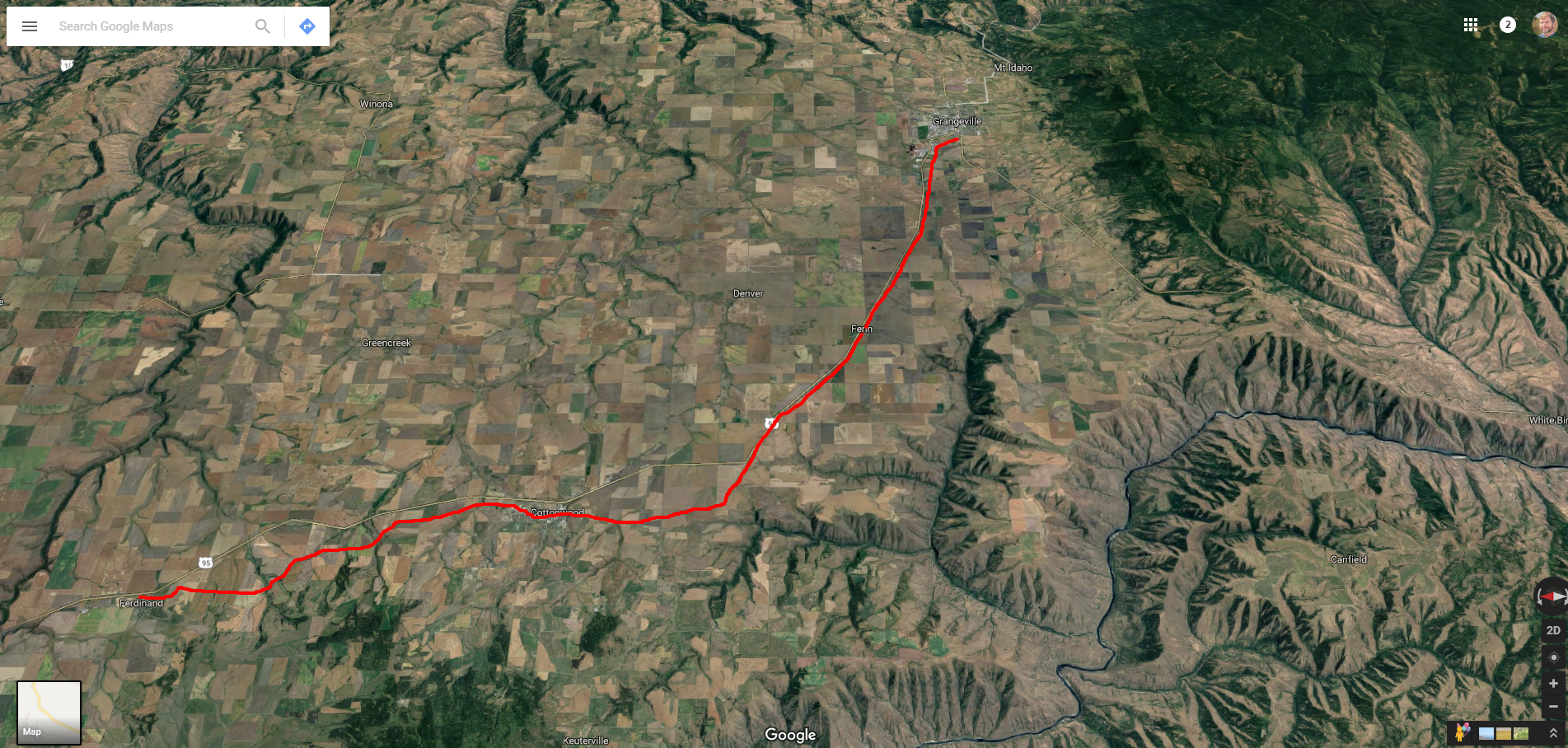 I rode my ATV on this part of the abandoned railroad since it is mostly prairie farmland and I could cover ground more quickly.  Please don't take that the wrong way. There are some amazing views along the way, but just not as dramatic or as dangerous as the climb up Lapwai Canyon (part 3).  I covered 24 miles this trip and then turned around and took a few gravel roads to speed things along on the way back to Grangeville and to avoid the extremely bumpy rides over the trestles.  I figured out that I should have used sunblock also ;).
Danger:  Don't try this at home!
I thought I should include a little disclaimer here.  I am exploring this abandoned railroad that has no chance of having a train come along.  A few of the bridges are gone and much of the rails have been removed,  making train travel on it impossible.  With that being said, it is even dangerous walking over these 109-year-old trestles also.  Hundreds of people die each year by getting hit by trains while walking along the tracks.  I in no way am encouraging anyone to walk along live tracks.  So why am I doing this?  I think the man-made structures being taken back over by nature is beautiful and I want to get artfully made images of all of them that I can before they are gone.
Just outside of Grangeville I encountered this beautiful spring scene of wildflowers.  The blueish flowers are Camas flowers (the namesake of The Camas Prairie).  The Nez Perce Indians dug the roots and baked them for food.  They have an indigestible starch that has to be cooked long enough to convert it to sugar or it will give you a severe bathroom problem like it did to the Lewis and Clark Expedition.
The end of May is the most beautiful time on the prairie in my opinion.  The weather generally is warmer, the snow is gone,  the grass is green and the wildflowers and canola are in bloom.  This next image is just before the metropolis of Fenn Idaho.  The canola fields are so bright!
Cottonwood Idaho
The first major trestle you come to from the south is bridge #50 in Cottonwood.  I didn't cross it on the ATV.  I just went around it but was able to get this picture of it.
This next image is of bridge 48.  It is 641 feet long and 100 feet tall.  This one was a little scary to cross as I am not a huge fan of heights.  Between Cottonwood and Ferdinand, I found some amazing views.  Here is one idyllic country scene.
I also found this little guy walking along the tracks too.
Ferdinand Idaho
This was the end of the line for me this day.  Here's a shot of Ferdinand.
On the way back I found this old schoolhouse that I would like to visit in better lighting conditions, like a sunset.
Click on any of the images or go to the Full Gallery to see the many other awesome views that I found along "The Railroad on Stilts".
Stay tuned for Part 2 which will be from Ferdinand to Reubens.  This will include the Lawyers Canyon steel bridge which is 1520 feet long and 280 feet high!
Stay tuned for my V-Log of this section of the trip.  It includes footage from my Go-Pro and my DJI Mavic Pro.  Please subscribe to my Youtube Channel to get an alert when I upload it.
The Wikipedia article has some great info available and many links to keep you busy researching.
Please comment and share any stories that you have about the Camas Prairie Railroad below.
Part 2 is HERE .